Automatic Jeans Pocket Setter With Two Machine Heads
Pfaff automatic jeans pocket setter is a compact and elaborate unit in which ensures consistent high quality and high output. Forms and templates are easily interchangeable within a few minutes without any tool. The sewing head and hook (XL hook) are synchronized by the electrical axis. The 3589 is equipped with an integrated folding station and a stacker. A light barrier curtain ensures the highest safety standards.
An operator can start using this machine with minimum training. With an output of 2,600 medium sized pockets (with 350 stitches) in 8 hours, the machine is one of fastest and most productive in the world. At 4000 s.p.m, and a cycle time of 9.2 seconds, the machine speed remains constant – even when sewing through corners! Fold, sew, done!
Features
Consistent high quality and high output – also when using two machine heads with separate colored threads
Forms und templates may be easily interchanged within a few minutes
Sewing head and hook (XL hook) are synchronized by the electrical axis
The intermittent material feed reduces hook wear to a minimum and allows stitch lengths of 12,7 mm
The machine is equipped with an integrated folding station and a stacker
Sewing parameters can be changed via the touch control panel
Processing of pre-folded pockets is possible
Decorative stitches are also possible (using either or two heads)
On customer request: watch pocket version
USB-port to download programs and software updates
Performance: up to 1,300 pairs in 8 hours (2,600 medium-sized pockets with 350 stitches)
Applications
Automatic creasing and attaching of pockets in jeans, workwear…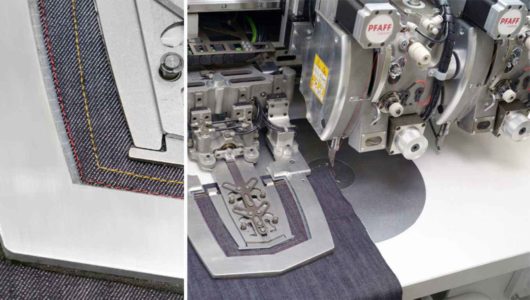 Specifications
Needle system: 134 SUK/SERV 7
Needle size: 120 – 140 Nm
Max. stitch length: 0,5 – 12,7 mm
Max. sewing speeds: 4.000 s.p.m
Max. Sewing area: 300 x 300 mm
Stichtyp: 301 (Lockstitch)
Connection voltage: single-phase a.c. 230 V, 50/60 Hz
source :- https://www.pfaff-industrial.com/en/portfolio/sewing-machines/automatic-sewing-unit/pfaff-3589