World's First Carbon-Negative Fashion Brand Includes a "SHEEP WITH EVERY PURCHASE"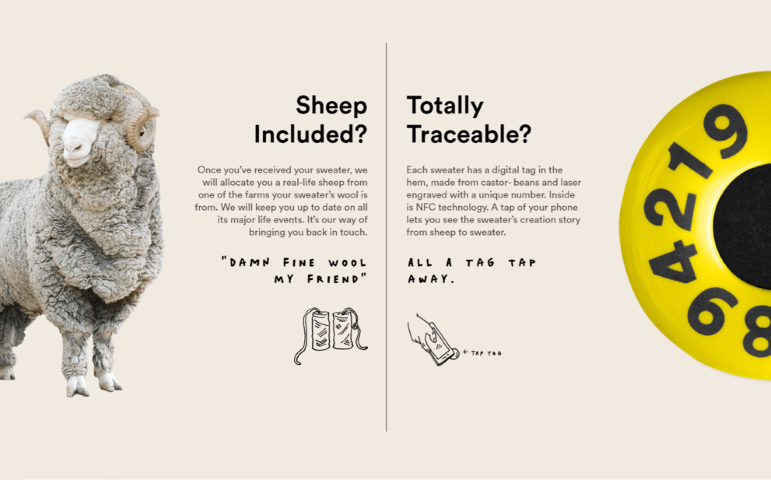 London based company, Sheep Inc., are creating "carbon negative" jumpers that feature a tag which will allow you to get regular updates on the well being of sheep at farms providing the wool for their clothing.
The sweaters are made using Japanese 3d knitting machines in Spain with yarn spun in Italy out of 100% New Zealand Merino wool. Each sweater has an individually numbered tag
which will allow you to get regular updates on the well being of sheep. It also traces the full sweater provenance. Yarn leftover from the sweater's manufacture is used to create the unique detailing at the back.
The company will invest 5% of the revenue into biodiversity projects. The projects will mitigate ten times over the carbon impact of your sweater. The project will be vetted by a panel of climate-change experts.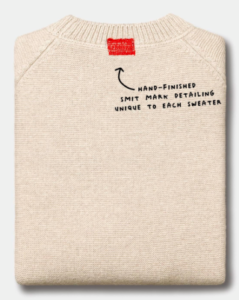 Founders Edzard van der Wyck, Michael Wessely, and Gavin Erasmus created the unisex product with a hope that it would fit into anyone's wardrobe to spread the message of sustainability to as many people as possible. After you buy one of the brand's £190 jumpers, you can scan a tag found in the hem using your phone to be allocated a sheep in one of the flocks providing their Merino wool. Sheep Inc. will send you updates on the day to day life of the animal you adopt letting you know information like when it gets a haircut if it has lambs, and where it is.
Prior to launch, Sheep Inc. was promising to "protect, permanently, four square meters of the world's forest" for every person who signed up for its email list. Sounds lovely, but another of the things that makes forest offsets suspect hinges on exactly this point: It's almost impossible to ensure a forest that's meant to be sucking carbon out of the air will stay standing for any length of time.
More can be found about Sheep Inc. on their website