Choose Your Mask Wisely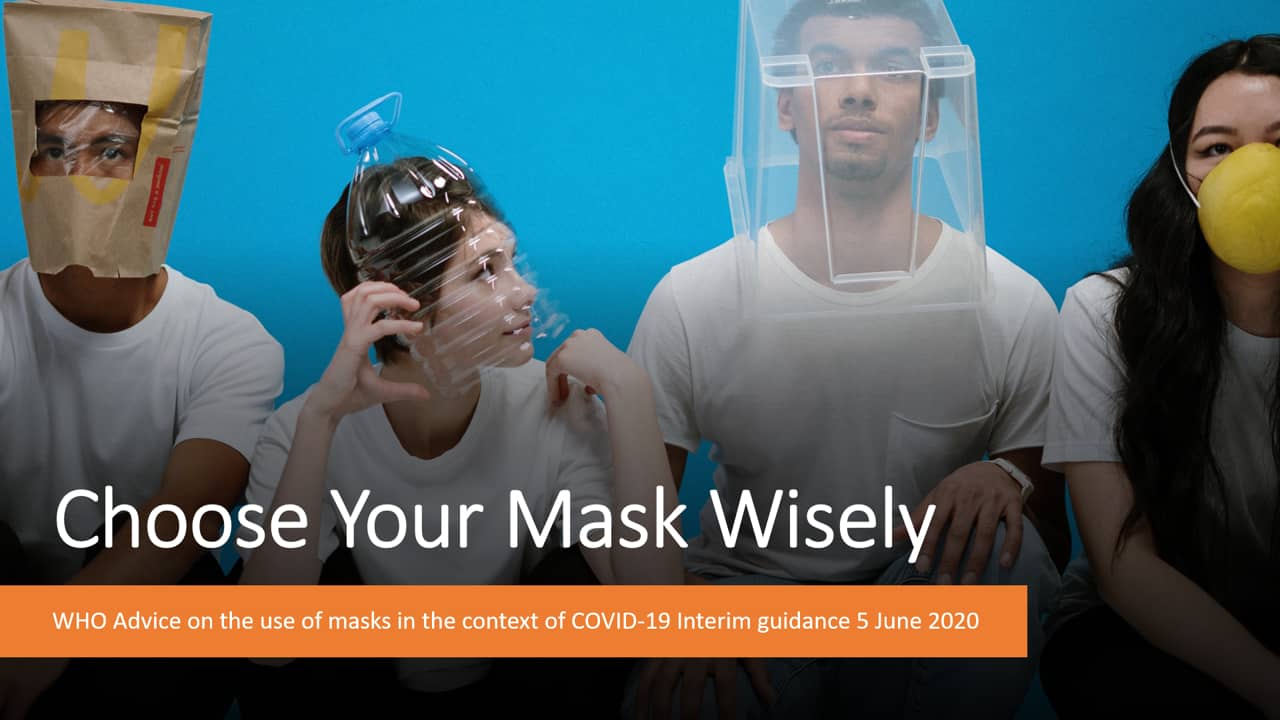 The use of masks is part of a comprehensive package of the prevention and control measures that can limit the spread of certain respiratory viral diseases, including COVID-19. Masks can be used either for protection of healthy persons (worn to protect oneself when in contact with an infected individual) or for source control (worn by an infected individual to prevent onward transmission). However, the use of a mask alone is insufficient to provide an adequate level of protection or source control, and other personal and community level measures should also be adopted to suppress transmission of respiratory viruses. Whether or not masks are used, compliance with hand hygiene, physical distancing and other infection prevention and control (IPC) measures are critical to prevent human-to human transmission of COVID-19.
Current evidence suggests that most transmission of COVID19 is occurring from symptomatic people to others in close contact, when not wearing appropriate PPE. Among symptomatic patients, viral RNA can be detected in samples weeks after the onset of illness, but viable virus was not found after day 8 post onset of symptoms for mild patients, though this may be longer for severely ill patients.
Prolonged RNA shedding, however, does not necessarily mean continued infectiousness. Transmissibility of the virus depends on the amount of viable virus being shed by a person, whether or not they are coughing and expelling more droplets, the type of contact they have with others, and what IPC measures are in place. Studies that investigate transmission should be interpreted bearing in mind the context in which they occurred.
Guidance on the use of masks for the general public
Types of mask to consider
Medical masks should be certified according to international or national standards to ensure they offer predictable product performance when used by health workers, according to the risk and type of procedure performed in a health care setting. Designed for single use, a medical mask's initial filtration (at least 95% droplet filtration), breathability and, if required, fluid resistance are attributed to the type (e.g. spunbond or meltblown) and layers of manufactured non-woven materials (e.g. polypropylene, polyethylene or cellulose).
The masks must block droplets and particles while at the same time they must also be breathable by allowing air to pass. Medical masks are regulated medical devices and categorized as PPE.
The use of medical masks in the community may divert this critical resource from the health workers and others who need them the most. In settings where medical masks are in short supply, medical masks should be reserved for health workers and at-risk individuals when indicated.
Non-medical masks are made from a variety of woven and non-woven fabrics, such as polypropylene. Non-medical masks may be made of different combinations of fabrics, layering sequences and available in diverse shapes.
A non-medical mask is neither a medical device nor personal protective equipment. However, a non-medical mask standard has been developed by the French Standardization Association (AFNOR Group) to define minimum performance in terms of filtration (minimum 70% solid particle filtration or droplet filtration) and breathability (maximum pressure difference of 0.6 mbar/cm2 or maximum inhalation resistance of 2.4 mbar and maximum exhalation resistance of 3 mbar).
The following features of nonmedical masks: filtration efficiency (FE), or filtration, breathability, number and combination of material used, shape, coating and maintenance.
a) Type of materials: filtration efficiency (FE), breathability of single layers of materials, filter quality factor
Depending on fabric used, filtration efficiency and breathability can complement or work against one another. Recent data indicate that two non-woven spunbond layers, the same material used for the external layers of disposable medical masks, offer adequate filtration and breathability.
Commercial cotton fabric masks are in general very breathable but offer lower filtration. The filter quality factor known as "Q" is a commonly used filtration quality factor; it is a function of filtration efficiency (filtration) and breathability, with higher values indicating better overall efficiency.Table 3 shows FE, breathability and the filter quality factor, Q, of several fabrics and non-medial masks.
According to expert consensus three (3) is the minimum Q factor recommended. This ranking serves as an initial guide only.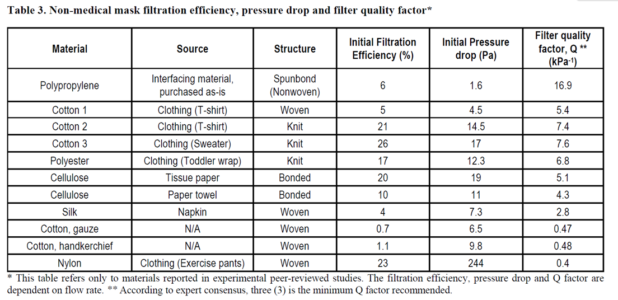 b) Number of layers A minimum of three layers is required for non-medical masks, depending on the fabric used. The innermost layer of the mask is in contact with the wearer's face. The outermost layer is exposed to the environment.
Fabric cloths (e.g., nylon blends and 100% polyester) when folded into two layers, provides 2-5 times increased filtration efficiency compared to a single layer of the same cloth, and filtration efficiency increases 2-7 times if it is folded into 4 layers. Masks made of cotton handkerchiefs alone should consist of at least 4 layers, but have achieved only 13% filtration efficiency.Very porous materials, such as gauze, even with multiple layers will not provide sufficient filtration; only 3% filtration efficiency.It is important to note that with more tightly woven materials, as the number of layers increases, the breathability may be reduced. A quick check for breathability may be performed by attempting to breathe, through the mouth, and through the multiple layers.
c) Combination of material used The ideal combination of material for non-medical masks should include three layers as follows:
1) an innermost layer of a hydrophilic material (e.g. cotton or cotton blends);
2), an outermost layer made of hydrophobic material (e.g., polypropylene, polyester, or their blends) which may limit external contamination from penetration through to the wearer's nose and mouth;
3) a middle hydrophobic layer of synthetic non-woven material such as polypropylene or a cotton layer which may enhance filtration or retain droplets.
d) Mask shape Mask shapes include flat-fold or duckbill and are designed to fit closely over the nose, cheeks and chin of the wearer. When the edges of the mask are not close to the face and shift, for example, when speaking, internal/external air penetrates through the edges of the mask rather than being filtered through the fabric. Leaks where unfiltered air moves in and out of the mask may be attributed to the size and shape of the mask.
e) Coating of fabric Coating the fabric with compounds like wax may increase the barrier and render the mask fluid resistant; however, such coatings may inadvertently completely block the pores and make the mask difficult to breathe through. In addition to decreased breathability unfiltered air may more likely escape the sides of the mask upon exhalation. Coating is therefore not recommended.
Mask maintenance
Masks should only be used by one person and should not be shared.
All masks should be changed if wet or visibly soiled; a wet mask should not be worn for an extended period of time.
Remove the mask without touching the front of the mask, do not touch the eyes or mouth after mask removal.
Either discard the mask or place it in a sealable bag where it is kept until it can be washed and cleaned. Perform hand hygiene immediately afterwards.
Non-medical masks should be washed frequently and handled carefully, so as not to contaminate other items.
If the layers of fabrics look noticeably worn out, discard the mask. Clothing fabrics used to make masks should be checked for the highest permitted washing temperature.
If instructions for washing are indicated on the clothing label, verify if washing in warm or hot water is tolerated. Select washable fabrics that can be washed.
Wash in warm hot water, 60°C, with soap or laundry detergent.
Non-woven polypropylene (PP) spunbond may be washed at high temperatures, up to 125°C.(72) Natural fibres may resist high temperature washes and ironing.
Wash the mask delicately (without too much friction, stretching or wringing) if nonwoven materials (e.g. spunbond) are used. The combination of non-woven PP spunbond and cotton can tolerate high temperatures; masks made of these combinations may be steamed or boiled.
Where hot water is not available, wash mask with soap/detergent at room temperature water, followed by either i) boiling mask for one minute OR ii) soak mask in 0.1% chlorine for one minute then thoroughly rinse mask with room temperature water, to avoid any toxic residual of chlorine.
Source:-•https://www.who.int/emergencies/diseases/novel-coronavirus-2019